Wizards are apparently less sleepy than Bobcats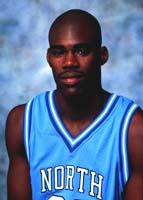 The Wizards and the Bobcats played a preseason game at 10 AM (seriously, 10 AM!) this morning, with the Wizards coming out on top 100-91 despite turning the ball over 26 times. Apparently, the two teams needed to play for the local-area Charlotte schools, and the only time that would work was 10 AM. Naturally, I wonder what those kids were doing watching a basketball game at 10 AM instead of being in school, but the question apparently never was considered by the organizers of the game.
Other than Antwan Jamison having a monster game with 22 points, there's not much to report here. Etan Thomas got the start at center, but neither he nor Brendan Haywood played much during the game. Caron Butler had his strongest game of the preseason with 17 points in 18 minutes. Donnell Taylor turned the ball over an astounding 8 times, hurting his quest to earn the backup point guard spot. Gilbert Arenas and Jarvis Hayes didn't play, with Hayes sitting out because of a sprained ankle. Hayes' injured ankle certainly doesn't sound good considering his past history, but I think he'll end up being okay.
Now that 4 games have been played, what's been good and bad at Bullets training camp?
The Good:
-
Starting Lineup:
As Michael Lee and Ivan Carter note, the Wizards have outscored their opponents by 14 points in the first and third quarter of games, the time when starters are usually on the floor. The Big 3 in particular have had really strong showings this preseason. Gilbert Arenas opened the preseason by dropping 29 in 29 minutes against the Raptors and has been very strong when on the floor. More importantly, the Black President has showed a willingness to improve his defense, as evident by his insistence on guarding LeBron James in the Wizards' win over the Cavs on Friday. Antwan Jamison,
featured in this article
, had a big game today and seems to be carrying the momentum from his Team USA performance over to the preseason. Caron Butler, when playing, has been a solid third scorer, and has proven to be one of the team's most consistent options. As for newcomer DeShaun Stevenson, wait until the next point.
-
The shooting guards:
This was point #1 for me on
my list of things to watch in the preseason
, and the results so far have been more than encouraging. I'm becoming more and more convinced that signing DeShawn Stevenson for the veterans minimum may prove to be the steal of the offseason. Stevenson seems to be exactly what this team needs. With Arenas, Jamison, and Butler providing more than enough scoring on their own, the Wizards didn't need more offense. When Stevenson is out there, he is a tough, physical, lock-down defender in the Bruce Bowen mold, and is a much better fit for this team than Jared Jeffries ever was. He's even shown a solid outside touch, hitting on over 50 percent of his shots in the preseason.
Jarvis Hayes, meanwhile, has also had a big preseason. He nearly led the Wizards to a win over Toronto in the fourth quarter of the preseason opener and has averaged a solid 8 points in only 16 minutes per game. We've been down this path before with Hayes, and every time he seems to gain momentum, he gets hurt or shows inconsistency. With that being said, he's still very young and, if he can stay healthy, he will provide really strong scoring punch off the bench.
With Stevenson blending in easily with the starters and Hayes showing that he could be a potential 6th man candidate, the shooting guard spot, which seemed unsettled entering training camp, has now become a potential strength.
-
The defense:
Granted, it's preseason, but the Wizards have held each of their opponents below 95 points and 45 percent shooting from the field. That's a good sign no matter how you slice it.
The bad:



-Andray Blatche-
Granted, the youngster had a very good game today, shooting 4-7 from the field and scoring 8 points in limited minutes. Prior to today's game, however, Blatche has been struggling. His stats prior to today's game have been ugly to say the least. He's shooting under 20 percent (5-28) from the field, committing turnovers at an ungodly rate (3 per game), and averaging nearly as many fouls (4) as rebounds (5). With the injury to Darius Songalia, the Wizards have given Blatche many opportunities to succeed, but he just hasn't been able to carry over his strong summer league performances to the preseason. Hopefully, today's game can be a turnaround, because he may find himself back in the D-League with more poor performances.
-Darius Songalia-
The Wizards' top free agent signing continues to be out of action with his back injury. On the first day of camp, the team expected this to be a day-to-day thing, but here we sit over two weeks later and Songalia is still injured. There's no denying that Songalia's offensive game is tailor-made for Eddie Jordan's system, but unlike fellow newcomer Stevenson, Songalia hasn't gotten the opportunity to get used to the system. If Songalia's back continues to bother him, the Wizards may be forced to play more of Michael Ruffin, who should not ever be playing more than 5 minutes a game. With Blatche's poor preseason and Songalia's injury, the Wizards haven't really had the chance to develop the frontcourt depth they desperately need.
Overall, I'm liking this preseason so far. Despite the problems of Blatche and Songalia, the Wizards are proving to be a much deeper team than they were last year. Gilbert's dedication to defense also is incredibly encouraging, and the starting lineup looks to be clicking already. Barring a serious injury to a top player, the Wizards will enter the 2006/07 season with their best team in 25 years.
Bonus stuff...
The
NBA Blog Previews
keep rolling along. Be sure to check out these awesome previews for
Detroit
(
Need4Sheed
and
Detroit Bad Boys
),
Indiana
(
Donning Craig Sager's Suit
),
Milwaukee
(
5 Point Bucks
), and
Denver
(
The Nugg Doctor
). Each of them predicted an over .500 record for their teams, which, at this point, is hardly shocking to me.....
Blog-A-Bull is still in limbo with the decision to accept my wager.
I'm eagerly waiting for Matt to stand up for his team and pull the trigger. There's nothing like a little friendly blog rivalry between two fanatic team bloggers. Well, maybe if we were actual professional athletes...
What's your feeling on Bullets training camp thus far?
Labels: Antawn Jamison, Bloggers, Charlotte Bobcats, Game recaps, Losses, Preseason, Team Analysis